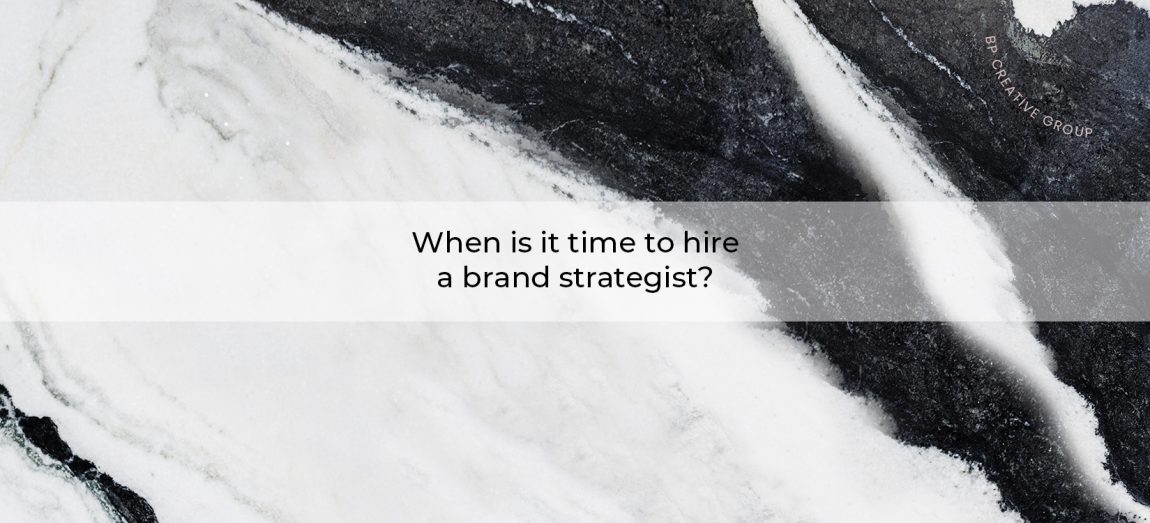 Before we dive into a loaded topic when it comes to spending your hard-earned cash, it's important to start with a few:
Are you itching for a fresh start?
Are you ready to position the business for a new audience or not attracting your ideal clientele?
Are you in need of better organized processes and tools internally?
Have you hit a ceiling with revenue and growth?
A professional brand strategy will guarantee clarity and confidence as well as attracting the 'right' clientele. But, there is a process to deciding if NOW is the right time for you and your business to work with a brand strategist.
I get it, you're still questioning:
Do I really NEED a brand strategist?
Will I see results?
Is it worth the investment?
I'm not going to lie to you – it's a very honest process to dive deeper into the business and uncover opportunities to start cutting out what isn't working and double-down on what is! So, if you're ready for that conversation, I've got recommendations on what to do to get ready for a brand strategist!
Here are 5 reasons why you should consider hiring a brand strategist:
Collaboration
Most brand strategists will collaborate with their clients on new ideas or methods for accomplishing goals. It's common to collaborate on finding solutions to the challenges that exist for the business.
They offer an outside perspective which can be refreshing and eye-opening in most scenarios. A strategist can help get your brand out of your head. 
Clear Goals
If you find yourself in a business-life crisis, hiring a brand strategist can be one of the best decisions you'll ever make. This transformative experience will happen by reexamining your goals and deciding on directions and marketing platforms to obtain them.
They will help you gain clarity on which goals are most important, teach you to validate the many ideas swirling in your head, and help you to make very clear decisions on actions to take. 
Brand strategists LIVE for this exact scenario.
The Big Push: out of the Comfort Zone
Any great strategist will give you the push you need by challenging you to do things you've never done before. Though these tasks may feel daunting and uncomfortable, the forced push out of your comfort zone will result in growth. This forced growth will also make you more confident and fearless.
The benefits of doing this expansion with a strategist is that you've got someone to cheer you, to bounce ideas off of and to re-strategize, if need-be. 
Accountability
Strategists are known for their accountability. As the client, you present your ultimate goals and plans for the business. Then, your strategist holds you accountable to those goals and plans along the way.
When you start to get off track or show signs of losing focus, they'll remind you of those goals and challenge you to stay focused on the long-term plan.
*This is imperative when you've got many people or online influences trying to pour advice into your business. 
Results
Most brand strategists require tracking of KPIs or other measurable factors so that they can verify that your business is heading in a positive direction. The most talked about measure of success is financial gain.
Brand strategists directly correlate their success through financial, client, awareness, and position gain.
Some, like myself, also track clarity on decision making and confidence level. 
BONUS: Financial Planning
Especially in the beginning stages, brand strategists will often ask you a lot of hard questions about the numbers. What is your profitability? How many leads did you receive? What is your closing ratio? A strategist forces you to know the numbers and that is a GOOD THING.
As the CEO of a growing business, you must know the ins and outs of your finances. 
To work with a brand strategist, you'll want to make sure you have answers to these questions:
Who is your target audience? Or, a sense of your ideal client or who you'd like to work with.
What's the value you bring?
What are your goals? You don't need to know where you'll be in 5 years, but what do you want in the next 6 months or year.
What impact do you have?
What products/services do you provide? Lay them all out!
The more you know about your foundation, the better a brand strategist will be – to create more specific timelines, plans and clarity. 
Before teaming up with a brand strategist – look into their process and make sure their values align with someone you want digging into your brand.  It's a fun experience, but it's also emotional one, so you want to work with someone you like.
And, once you're ready – your brand strategist can help you reach your business goals and make your brand stronger than ever.