Is an event the right avenue for your Fundraising organization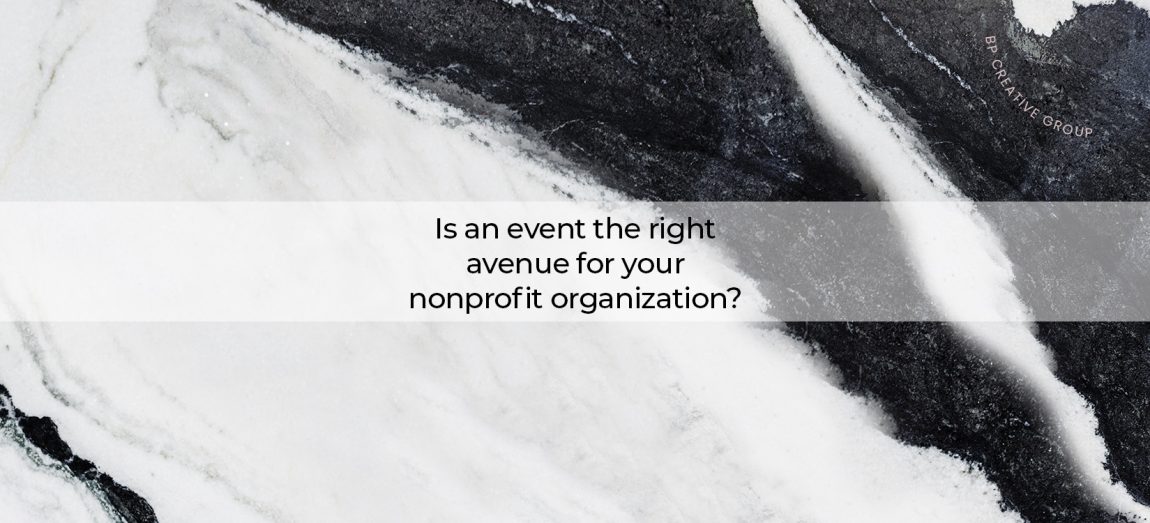 A little party never hurt nobody, said in the Great Gatsby. AND, we all know at BP Creative Group, we are down for parties, events, galas, fundraisers, weddings, etc. We love branding the heck out of a party, but the strategy behind an event goes further than the party particulars.
Every fundraising event should create the opportunity to:
Deepen the level of engagement with current donors and sponsors
Expand potential donor outreach
Consistently build your volunteer and committee pool 
BUT, do you have the capacity – time, energy, effort – to create a successful event with those three opportunities present and focused?
Just like chess, a method to your madness must be crafted and followed by all parties – YES, ALL PARTIES. What does communication look like and how do you best maximize your Board, Committee, Staff, Volunteers and current Donors? 
When events start to roll out, one of the first things we focus on is experience! How do you recognize your sponsors, continued donors and how will you create the reciprocity for new attendees?
Remember that Right or Left attendee we tend to speak about. Right = Well educated, prepped, primed. Left = grab a drink and take a left to leave! It is critically important for new attendees to fully understand more than what is present or featured at the event. It's about community impact, BIGGER picture thinking, and a message that compels action over and over! That is why pre and post event marketing are so important!
If HOSTING an event is essential for your organization, yes hosting is capitalized, all parties must work the event – walking billboards. Introduce key members to new attendees or sponsors. Work the crowd, get a feel of who is taking part! Could one of those new attendees or sponsors, support your organization by sponsoring a private event elsewhere – their small business, their corporate office, their home, etc. Or, I must ask – would curating a social media campaign, open house or private event provide the same level of connection and revenue?
Remember, if sponsors change their sponsorship donation, always recommend giving throughout the year or set up a different method for them!
Events are a ton of work, but if you put in the true amount of work, there is no reason why it shouldn't be successful! 
Cheers to marketing the heck out of your event!
Enjoy this article and find it helpful? Find out more about how we can partner with you on your next event.