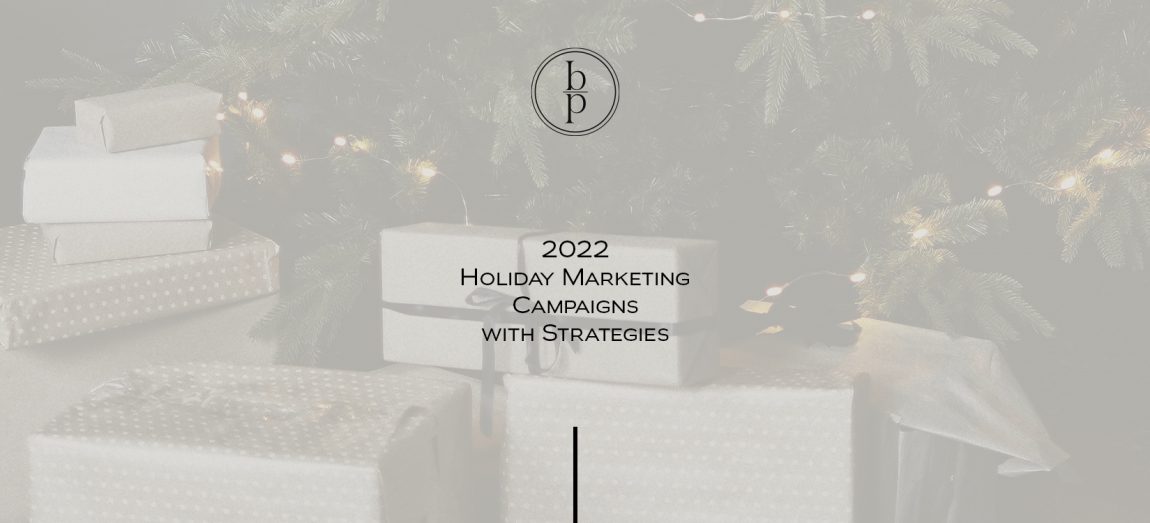 Can you hear that?
Sleigh bells ringing and excitement buzzing?
Ok, maybe that's in the heads of the BP Creative Group team because we have holiday marketing campaigns on our mind. But, before visions of sugar-plums start dancing, we thought we'd create visions of successful holiday marketing campaigns.
Not So Merry Marketing
Let's get the 'not so merry' stuff out of the way. Unfortunately, Q4 adds an extra layer of burnout, stress, and overwhelm. Lists get longer and before you know it, the sniffles & coughs have your health and energy at an all-time low.
We couldn't be more excited to help make your lists, check it twice and sing sweet silent nights all season long!
Word on the Street
Q4 is essential for most retail and product-based businesses. The holiday season offers the opportunity to engage with clients further and show success within a matter of weeks! From Thanksgiving to Christmas, U.S. shoppers spend $880+ Billion during the holiday season. If you needed proof, well we hope that number gave you chills and spit the PSL you might be sippin' on.
That means, brands need to plan and execute holiday marketing!
Let's Jump into 5 Ways to Create a Successful Holiday Marketing Campaign
Don't Plan for the Holidays: We've been told we have a few unconventional ideas and this is one of them! Before you start planning for the holidays, consider how you will interact and engage with clients & customers after the holidays. If you don't typically use a platform or offer certain products, it's probably not wise to add extra work or stress during this time of year.
Make some Decisions: Decide on which products you will feature, sales campaigns and promotions. Got a bundle or package in-mind? Put it together and create the one-stop-shop experience – your customers will love you for it. These decisions will be useful when it comes to planning photoshoots, videos and even graphics.
Pick a Platform and Stick to It: What would it look like to go all in? From social media to email marketing, parties and collaborations, what would it look like to lean all in and have them planned ahead of time? We'd call that a Christmas Wish!
Help Wanted: Who do you need help from? What resources do you need to fully execute a marketing plan? Now's the time to get the help you need, whether that's a better client management system, email marketing platform or graphic designer. Christmas miracles don't just happen, get the help you need!
Create the Connection: This time of year adds a little more sparkle to our eyes because we remember how proud, honored and blessed we are to have a flourishing business and support of our biggest fans. Why not share that with our audience, VIP clients and customers? A few ways to do this: send a personalized Christmas or Thanksgiving card, offer free shipping, open early or even host a party or unveiling (could be virtual too).
Holidays are a peak season for businesses. So, when you're thinking of spreading a little extra holiday cheer with your marketing campaigns, get organized and actually enjoy the holiday season!
Love chatting about holiday marketing? Sign-up for our newsletters, so you don't miss out on more tips.
Cheers, BPCG