How to Manage an Overly Creative Mind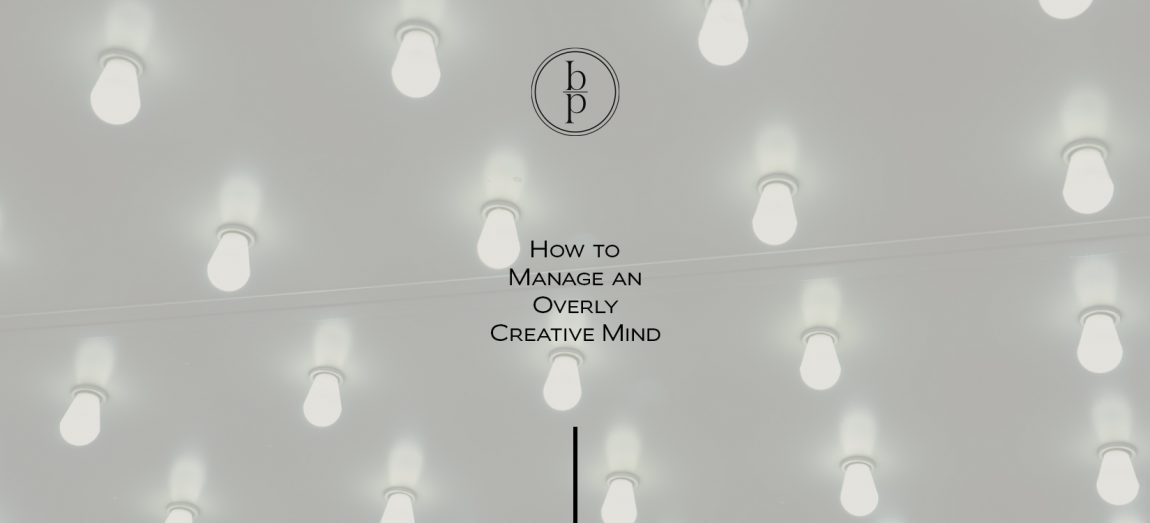 As business owners or marketers, it's inevitable that at any moment of the day or night random, GREAT ideas start popping up and before you know it, you're overwhelmed and trying to manage or make sense of it all.
How do you separate everything? What do you do next? Where do you come up with the time to do everything? How will you stay focused to achieve the next level, if all the clutter or what-ifs get in the way?
First, let's understand why all this creativity all of a sudden:
Whether you're at yoga, in the shower or on a zoom call, ideas seem to pour in during a relaxed state. You're excited and passionate with what is going on around you. We know that owning a business means a little overwhelm here and there, but it's a matter of not letting it control you, especially when it comes to marketing and branding decisions for your business.
The big question: how do you turn all that overly creative mind into a success-driven mind?
We've got three ways to manage:
1. Simmer Down
Deep breaths and just let it simmer. Paying attention to every single idea can be just plain exhausting!
This mental on-going list of to-dos, ideas, and thoughts can take up way too much brain space. How could you not feel overwhelmed?
It's time to organize one step at a time.
First, the next big idea strikes – keep calm and write it down. Acknowledge that you've written it down and move on to something else.
You'll come back to this list weekly.
Ask yourself:
Are these ideas you want to entertain?
Does this idea move my business closer to my defined goals?
Will this idea add extra work or resources? If so, what are they?
2. Create buckets
So, now that we've been making our lists and weeding out ideas that won't fulfill our purpose or goals, we're ready to create buckets.
Buckets will represent common-themed areas of these ideas. For instance, a new marketing campaign – all of the ideas regarding a new campaign will go here.
This level of organization and process will help realize if an idea is still important to pursue.
3. Alignment
At BP Creative Group, we're all about new ideas, concepts, thoughts, processes, etc. etc. etc. – but more importantly, we're truly about alignment and confidence! We encourage you that once your list has been separated into buckets or common areas, you'll be able to refine ideas based on alignment.
Does the idea align with your:
goals?
team?
branding foundation?
voice or visuals?
brand strategy?
resource availability?
time?
Confidence is key to any idea. Once you're ready – attack it and put designated timelines next to each action.
---
These tips should help you navigate all of those must-not-forget, incredible ideas that come your way.
Once you see the level of time, commitment, resources, or responsibility, you'll be able to move along with clear intentions for those creative ideas!
And, train your brain in the process to filter ideas for goals you've set!
We'd love to hear from you if these tips we're helpful!