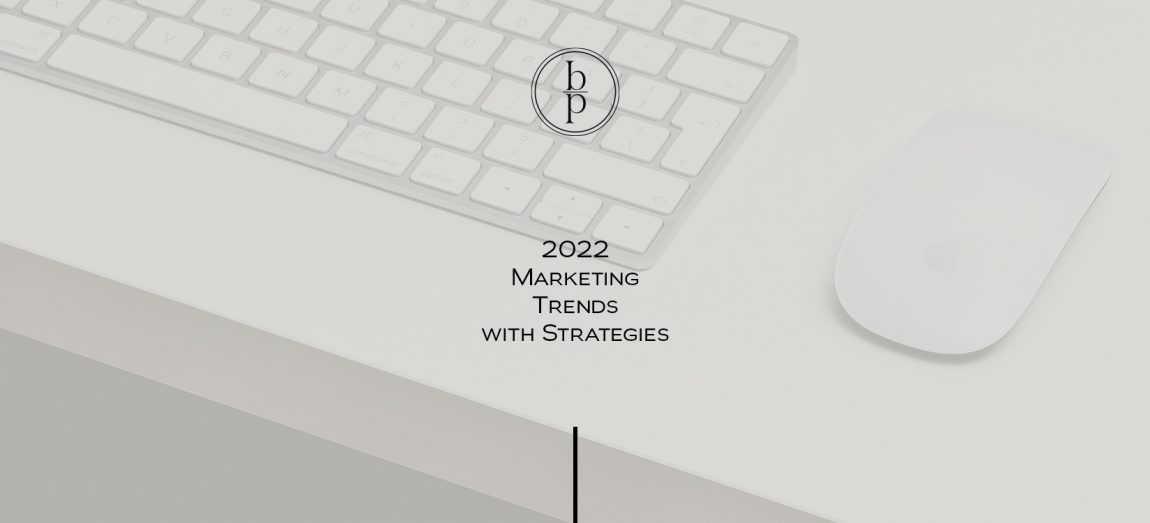 In the last year, marketers embraced and adapted to in-person, virtual, and hybrid businesses. Consumers and clients relied on virtual engagement and online experiences.
As marketing at any level, keeping up with those changes or demands wasn't always easy. It seemed like the marketing to-do list was even longer than before! But, to succeed in a fast-paced 2021 marketing world and maintain a sense of relevance with your audience – we'd say that's enough for celebration!
We're excited to help businesses build competitive, intentional and clear marketing strategies for 2022 and here's what we're seeing for:
Ready to get started? Click on a title above to jump to section and let's dive in:
1. Social Media Marketing
Social Media Marketing will continue to be most effective with consistency and plan-driven campaigns. Hubspot says 44% of businesses plan to increase their investment for social media marketing, while 8% say it generates the most ROI compared to other marketing strategies they leverage.
If you're focused steady engagement, long-term brand awareness and discoverability – social media marketing is the way to go.
This year, businesses will begin to tailor their platforms and focus on a few. Here are a few questions that can help you determine how many platforms your business should be on:
Which social media platforms have audiences that best align with your ideal client?
How much time will it take to implement a strategy on each platform?
Can you repurpose engaging content between platforms?
Remember, social media was started for real, human connections! Keep that in-mind when planning personalized content. This is a huge opportunity for brands to showcase in-the-moment content. Live video streams, reels and audio will continue to help your audience connect even further to your brand.
KEY TAKEAWAYS:
Invest in a social media strategist for consistency
Limit your platforms, based on your audience
Connection. Connection. Connection.
2. Website Marketing
Once again, it's no surprise to see the surge of consumers spending more and more time online, most on mobile! As audiences continue to purchase more online, a mobile-optimized experience will be even more vital.
As the interest and need for SEO strategies grow, so do all search engine opportunities. Now, brands are investing in SEO experts who can help with insight and optimizations. The best way to lead this marketing venture is to optimize all content with search-driven keywords. This strategy won't be expensive or time-consuming, and it will help you immediately!
We use a tool called SEMRush to do quick SEO keyword research related to your business, niche or products to learn where we can boost your content with keyword-optimized titles, subheads, body text, or descriptions!
Lastly, website design is becoming a hot topic! Once viewers get to your website, are there:
Strategy-driven layouts/design
Clear Call-to-Actions
Organized Content
Three website design tips we are seeing for 2022:
Simplicity: Modern-looking layouts make way for clear content to be seen. If you're in need of a website refresh, have a website designer or strategist audit your website, chances are they'll find a lot to omit!
Creative Photos: Brand-specific photography is becoming incredibly hot! Rather than using stock photography, invest in an art director to work with a photographer. Your headshots, product photography, and in-house photography should all have a cohesive visual identity! Another trend we are seeing for 2022 in product photography: 3D simulations. These help provide a better visual on products!
Illustrations: Brands are thriving with their style! All of this in-part of custom brand-designed patterns and graphics. Rather than using free graphics that won't coordinate with your brand color palette, work with a graphic designer to give you cohesion in illustrations, graphics, patterns, and textures! Bonus: these should be implemented in templates that can be used throughout social media!
KEY TAKEAWAYS:
Mobile-friendly
SEO-driven strategies
Designed to sell
3. Influencer Marketing
When researching through HubSpot, a not-so-surprising 57% of businesses that currently leveraged influencer marketing in 2021 and say it's was the most effective marketing and ROI-generating trend they've tested. 46% of them plan to increase their investments in 2022.
So, how and why has influencer marketing gone from an intriguing trend to a commonly-used marketing tactic? Well, influencers are often masters of the platforms they use and the topic they talk about. They already have an audience that is engaged, interested in their content, and influenced by the information they provide.
When marketers collaborate with influencers, they can expand brand awareness and gain fans from the influencer's own audience.
Although it's tempting to only look at just their follower count when determining if an influencer is right for your brand, remember that true influence lives in engagement rates (clicks, subscribes, and purchases).
One thing to keep in-mind, make sure to outline campaign goals to a specific measurement strategy. Measuring an influencer marketing campaign is important in order to determine the success of a campaign.
Here are our three ways to measure an influencer marketing:
Effectiveness: promotional effectiveness is a results from communications and activities that increase sales in ways that optimize the use of your marketing dollars. Along with implementing promotional activities, they should also be analyzed using a data-based approach; this is to understand if they have delivered the targeted results. An effective influencer marketing strategy requires you to speak to the right people and use the right tools to analyze: KPI, reviewing past promotions, and organizing data.
Brand Awareness: brand awareness should be reviewed with the influencer to see what should be improved or if there are new ideas that the brand should be using to reach more followers. Do this by establishing realistic expectations to increase engagement and target a specific audience. Ask yourself, are they (the targeted audience) becoming followers of yours?
1:1: tracking of 1:1 are individual customers who were exposed to influencer content to purchase. It has been proven that influencer content can drive sales and increase cart size. Especially when it comes to social media posts, these resonate with consumers to directly purchase because of their persuasion.
KEY TAKEAWAYS:
Invest in Influencers, if it seems like the best fit
Campaign/Goal strategies
Analyze the effectiveness
4. Event Marketing
In 2022, we expect to see more hybrid marketing strategies that still allow audiences to embrace events. Although a decline in sight, strategies will be outlined and defined to include a potential virtual option.
Hosting a hybrid option will make way for a powerful brand marketing asset: Email Marketing. Here are our tips for email marketing:
Simplicity in design: This year it's all about minimalistic design and content, along with bright colors. Email Marketing should catch your subscriber's attention with well-structured and simple email, while still implementing color blocks that stand out.
Personalization: although the end goal of email marketing is to generate leads and revenue, there are steps to follow in order to get there. The best way to successful email marketing is creating campaigns. Personalized messaging and subject lines have an open rate of 50%, according to Instapage.
Drip Campaigns: Drip campaigns (automated campaigns) will be more common than manual campaigns in 2022. Drip campaigns use sequences of trigger-based emails, which ensures a more responsive and steady communication between your business and its customers. This will be incredibly useful to plan for events!
Tailoring events this year to provide a full-brand immersive experience will still be top of mind for planning. Customizing each detail, pre- and post-event will drive brands and event themes. We encourage that if you're considering hosting an event this year, strategize not only the experience, but design elements.
Event marketing this year will also include partnering with like-minded brands! When selecting another brand to work or collaborate with, keep in-mind that you are aligning your brand values. In order to reap the biggest reward, make sure to extended support and intentionally guide them on the goal of the event.
KEY TAKEAWAYS:
Prep a hybrid event option
Emails and details matter most
Partnerships can be a valuable asset
5. Internal Marketing
Shifting our focus from outbound marketing to inbound was a real wake up call in 2021. Best practices, processes and organizational skills continue to be the focus for 2022. Effective strategies are only as effective as the processes in place.
Refocusing on building trust and education with your audience will create loyalty and most importantly, retention.
In order to achieve impeccable internal marketing for the year, take a deeper look at developing strategies gear ONLY toward your ideal client and target audience, by addressing their:
pain points
persona
process of purchase
A hyper-personalized experiences will be the essence of marketing for 2022 and that goes along with internal experiences. Goal mapping, analytics, campaigns, and product development & testing will help introduce better team collaborations.
Find the balance that you need work ON the business for 2022.
KEY TAKEAWAYS:
Organize internal processes
Restrategize branding to address clients on their level
Collaborations and balance are top of mind
Need assistance with goal mapping – download our free goals guide.
---
Wrapping up – all we can say is 2022 will bring new opportunities to uncover! The best part – you've got the inside look on where you can take your business.
Need an all-in-one Partner for branding and Marketing? we'd love to hear from you!