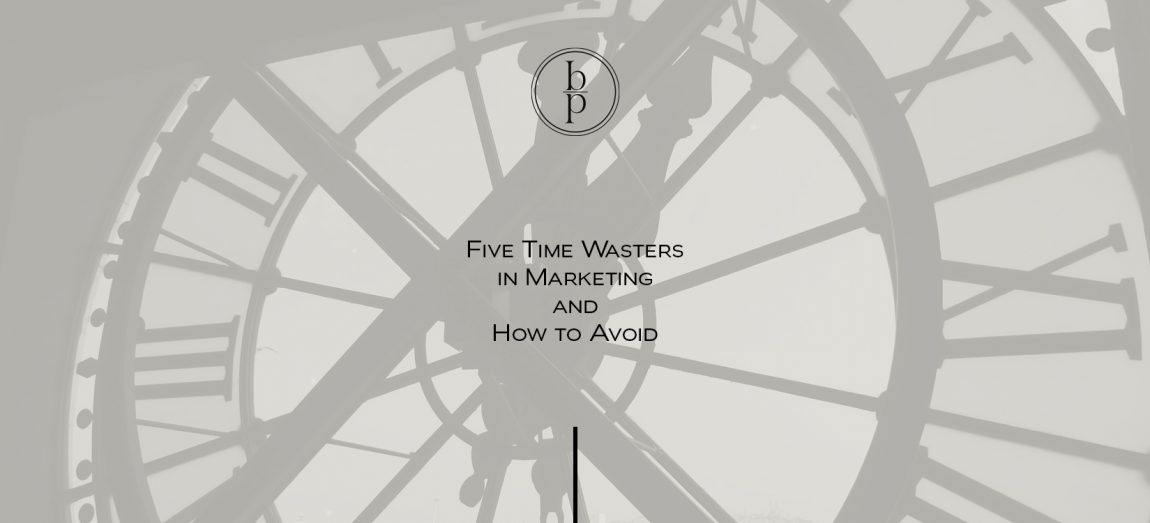 Seriously, NOTHING is worse than wasting time, amiright?
Although, sometimes we must go through challenging processes to learn something new; however the reality is that as a business who's operating;
under pressure
on all cylinders
and, at full capacity
…You just don't have time to waste!
So, without wasting anymore of your time, here are the five biggest time wasters in marketing:
Time Waster #1: Poor Strategy
A poor marketing strategy will lead your business to make costly mistakes, select the wrong market, or fail to reach the right target audience.
Do you have a fully defined Branding Foundation? Have you identified which platforms are most effective to target your ideal audience? Are you educating your clients to become loyal advocates of your brand?
How to Avoid: Ask yourself and your team if they know these strategies well
What is our core message? Boil it down to 30 seconds or less.
What are our service or products' key features, benefits, and impact? What pains or possibilities do we address in our target marketplace? List the top 5 of each.
What is our advantage over the competition: price, quality, speed, or service?
What is our Unique Selling Position: the single, coolest, most powerful stance we can take in the market?
---
Time Waster #2: Unfair Goals
Unfair goals usually arises from one of these problem areas: poor strategy, unclear objectives, complex priorities, and accountability.
We, as leaders, set goals to influence, motivate and encourage growth. Either too high or without proper, in-place resources will cause goals to be unachievable.
As a leader, strive for realistic expectations associated with each goal. What are some motivations you have in place to 'keep going' when things get to be too much – an accountability coach? an plan or process? a business strategist?
How to Avoid: Set goals that match where you are and get the resources you need to track. Check-in monthly, quarterly and annually. Familiarize your team with these goals and get everyone on the same page.
---
Time Waster #3: Too Few Attempts
Are you maintaining your campaigns and plans with effective strategies or spending what feels like thousands of hours creating them, only to fail on the process portion?
Are you marketing a product or service one month, then wishing, waiting and soon sick of the waiting game, so you get frustrated and try something different?
We found that most business owners make plans without clear analytics and timeframes set. Unfortunately, this is a red flag. If you continue to pull the cord before really seeing these plans in motion, marketing will continue to yield little result.
So, we encourage you to take the stance: No more dumping dollars down the drain without proper processes.
How to Avoid: Track all of your marketing avenues, with detailed insights: leads, conversions, referrals, etc. and timelines. Review what worked in the past and stay CONSISTENT! Your ideal client(s) are not on every platform, quit stressing that you need to be.
---
Time Waster #4: Fulfillment
The average 'marketer' spends 1.5-2 hours per day typing e-mails, creating social content, and formatting proposals.
Rather than waste time with these repetitive tasks, automate the process with templates. Create flow charts for communication processes and find the places where standard e-mails, content, mailers, hashtags, proposals and other typical media are needed. Create templates and watch how much easier things begins to look.
Refine the process as needed and cut the time spent on each one of these tasks!
Ask your team: Which resources do you need to streamline?
How to Avoid: Hire a graphic designer to create branded templates. Put together a bank of responses, content, captions, hashtags, etc. most used for your marketing. Share this among your team, especially if you are sharing the social responsibility!
---
Time Waster #5: Not Knowing Wins-Losses
Most businesses fail to review results, link campaigns and track the search engine keywords that bring in the most sales. If you never review real progress, you won't be able to learn from past successes and failures.
Knowing the sources of your successes and failures will help you streamline your marketing and ultimately tap your most profitable sources of prospects and profits.
How to Avoid: Keep it simple, pick 3-5 in each Key Performance Indicators (KPI's) category and track for 30 days. You'll have a baseline to make changes and track how they affect performance.
Reach
Total number of visitors to the site
Unique visitors to the website
Visitors via SEO, SEA, social media, social ads
Visitors to the website via e-mail marketing
Click Through Rate on social media, social ads or other external sites
Number of fans or followers on social media
Sessions per device (smartphone, tablet or desktop)
Keyword performance
Number of social media posts
Number of blog posts
Number of downloads (whitepapers or templates)
Referral traffic
Act:
Returning visitors to the website
Time spent on the website
Bounce rate per visitor and per page
Response rate
Average time spent on a page on the website
Page views per session
Comments and likes on a post on social media
Newsletter subscribers
Content Downloads/Saves
Convert:
Number of orders or deals
Lead-to-customer ratio
Return on Marketing Investment (ROI)
Inbound Marketing ROI
Funnel conversion rate
Engagement:
Customer Lifetime Value
Customer Acquisition Cost
Retention rate
Referral rate
Dormancy rate (for example customers who have a subscription to your product but do not actively use it)
Every business is unique and will face different challenges or trends at different times of year. Understanding these KPI's will further the experience you provide to your audience.
---
It's not enough to say 'I'm ready to stop wasting time'. You'll need a strict process, strategy and accountability. What resources do you need to achieve the goals your business has and can handle?
When you're ready, we're ready to set realistic expectations for your business. Let's do it!